About
LSI Financial Services was established in 1997 with a vision to provide services relating to
Corporate Finance Advisory, Project Finance Advisory, Techno-Economic Feasibility Study,
Asset & Equity Valuation, Project Management Consultancy and other peripheral services.
With a team of more than 150 professionals LSI has empowered more than 200 large corporate
houses across all sectors in India with its suite of Financial solutions. Today LSI is present
across the major cities of country
We are LSI group
Offering a spectrum of services
Infrastructure
90 projects delivered
Metals & Mining
65 projects delivered
Energy & Power
30 projects delivered
Textile
10 projects delivered
Manufacturing
50 projects delivered
Chemicals
10 projects delivered
Real Estate
15 projects delivered
Hospitality
20 projects delivered
Healthcare
15 projects delivered
Food & Beverages
50 projects delivered
Automobile
10 projects delivered
Education
20 projects delivered
Government of India Ministry of New and Renewable Energy
The Government of India is committed to promoting ecologically sustainable growth while addressing India's energy security challenge. With this objective in view, the Government has been stressing the promotion of renewable energy, with a particular focus on solar energy since India has a huge untapped solar potential. The Solar Report prepared by LSI Financial Services Pvt. Ltd. is surely a timely effort towards this objective of the Government to meet the enhanced energy requirement of the country by supplementing the conventional sources of energy. The report will help the entrepreneurs in the solar sector. We wish LSI Financial Services Pvt. Ltd. all success in their efforts in promoting the solar power sector in the country.

MSP Steel & Power Limited
We would like to put in record the good work done by LSI in the capacity of Financial Advisor in connection with the successful implementation of the S4A Scheme of MSP Steel & Power with all the lenders under the Leadership of State Bank of India. During the period of finalising the proposal for submission to the lenders, we have observed that domain knowledge, expertise, quick response, relevant instructions of RBI and Banks, acceptable advice are your strength and these have helped us to finalise the proposal and successful implementation of the said Scheme S4A. We thank you very much for your timely support and look forward to work together in future and wish your company success.

West Bengal Electricity Regulatory Commission
Thank you for your letter dated 18.06.2010 enclosing your current report 'Thermal Energy-backbone of Power Sector'. We have gone through the report thoroughly and found it's contents and all the important information in respect to Thermal power station will be very useful for working engineers and managers. I would request you, if possible, to include the costs of new thermal stations (MW basis) of various sizes, varying from 250 MW to 800 MW in the next edition. I would also request you to send us a copy of your previous issues, particularly on Hydro-Energy and Renewable Energy. I am also expecting the forthcoming issue on 'coal and merchant power' by you. These reports will be used for our reference.

Central Bank of India
It was nice to have LSI's introduction through a detailed research report on 'Thermal Energy-Backbone of Power Sector' which was very informative. The contents of the report will definitely be useful to us. In case of need, we shall be glad to approach you for preparing such Report on a specific Industry.

Century Ply
I thank you for your letter dated 29th April 2010 giving cover to your current report Thermal Energy-Backbone of Power Sector. I complement the entire team of LSI for the wonderful job and for beautiful presentation. The report is very useful.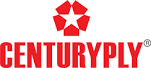 The Rasoi Group
Thank you for sending me a copy of the monthly economic update of your company. The industry focus on hotel is very interesting and has come up very well. Congratulations on all the hard work.

Indian Bank
Indian Bank>We thank you very much for sending me the book titled 'Indian Road Sector Outlook 2017-18', brought out by your research team. The book is very informative and useful on infrastructure development. We wish team LSI all the best for all the future endeavors.

Kesoram Industries Limited
We are in receipt of your letter dated 11th instant enclosing there with booklet in respect of Hydro Energy. I fully agree with your points what you have stated in your letter. It is high time that the government should take necessary initiative in the matter. Please keep us also informed any other steps which may be advisable for us.

Haldia Petrochemicals Ltd
This has reference to the engagement of your services for valuation of HPL's Land & Building and Plant & Machinery (valued close to about Rs 20,000 crore).
We are happy to mention that the valuation exercise was carried out very diligently with time bound professional approach with people having requisite skill sets and the same was found to be satisfactory to us. We wish you all the best for your future assignments.

Minister of Road Transport Highways & Shipping Government of India
It is so thoughtful for presenting me with the current edition of India Road Sector Outlook 2017-18 brought out by LSI Financial Services Pvt. Limited, which I happened to go through the broad elements of the report. I find it more informative and producing research-oriented analytical data on the State-wise Road Network Index which would help in assessing the road development in the country. The report comes at an opportune time when the Government is developing infrastructure in India as a top priority. I hope the report contributes to further development of Indias infrastructure, especially in the road sector, involving both the Government and the private sector. Also, I am happy to learn that LSI Financial Services is a one-stop innovative financial service provider and also renders valuable project advisory services in preparing DPR/TEFR. I fully appreciate and support your efforts in bringing out such informative inputs useful for all stakeholders directly involved in key infrastructure sectors. I convey my best wishes to the entire team involved in this effort and for success in all future endeavours to come out with more such valuable editions.

Certificate and Accreditations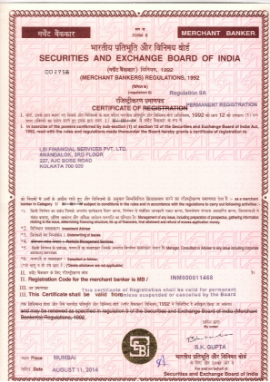 SEBI Registered Category | Merchant Banker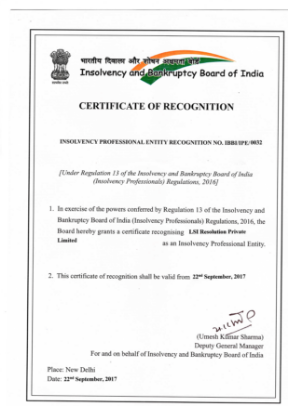 Certificate for Registered insolvency Professional Entity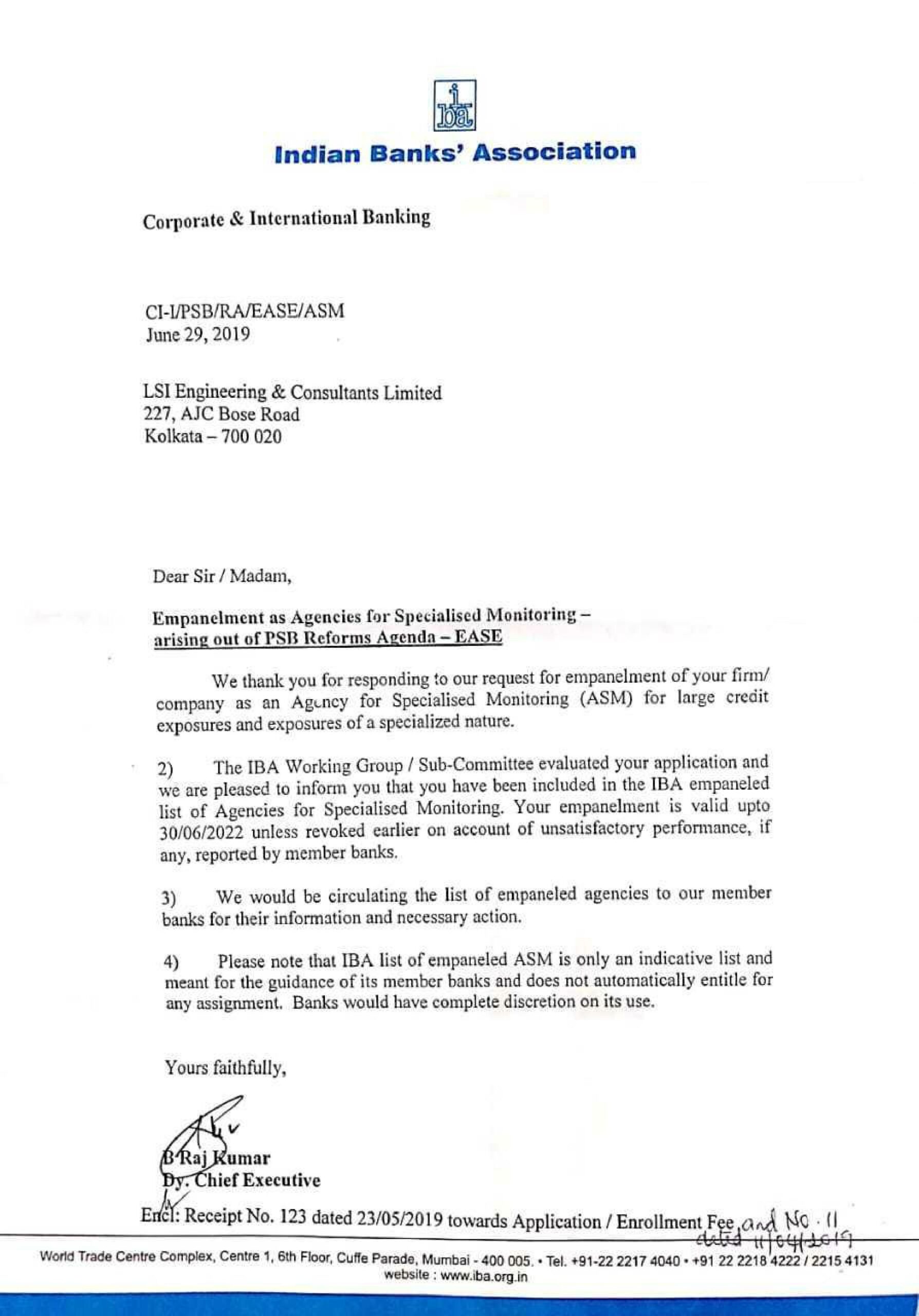 IBAs (Indian Bank Association) Empanelment Letter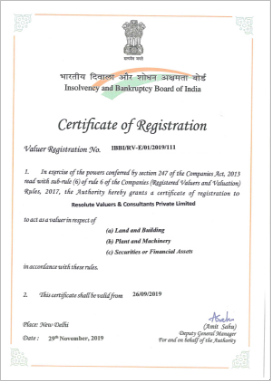 Resolute RVE IBIB Certificate